Websites/Research/Articles
Click here for Latest research & articles
Authentic Connections...Click here to read about Dotti's and Roby's experiences with James Dobson's Focus on the Family

Websites (below)

www.StraightIntoGayAmerica.com

We feel privileged to have met Lars Clausen, spending time together on Memorial Day, 2005, and then again for the week-end before he left on his tour, Straight Into Gay America.  We met his wife, Anne and their children, KariAnna and Kai, as we celebrated Lars' 44th birthday. 

 

One

straight guy (Lars Clausen, an ELCA Lutheran pastor)





One

Guinness World Record unicycle



One

month to explore gay, lesbian, bisexual, and transgendered (GLBT or LGBT or queer) America.

 

Gay America—subject of extreme religious and political polarization—offers the question for my ride.

What is everyday life like for GLBT or queer people in the United States today?

---
Parents, Families & Friends of Lesbians & Gays (PFLAG) is a national non-profit organization with over 200,000 members and supporters and over 500 affiliates in the United States. This vast grassroots network is cultivated, resourced and serviced by the PFLAG national office, located in Washington, D.C., the national Board of Directors and 14 Regional Directors. 

Gay Into Straight America is providing weekly updates of their journey on the PFLAG website under "Weekly Alerts."

---
* Note: Our Gay Into Straight America website has stood "as is" from our journey in 2005-06 as a marker of an important time in our history. Thank you Ryan Cirbo for contacting us in 2017 and suggesting adding two new resources below!  Following is the email we received from Ryan and felt it was important to honor his request as people do find our website and do still need resources, especially updated ones that are available today.  To grasp the importance of the time when we did this journey, Facebook had barely come online and it was just for college students.  So all we could do was send out a weekly newsletter.  If you haven't read through our journey, click here to follow along and see what it was like in 2005-06 for Two Women & A Poodle.  We are sad to share that we lost our precious Rylee Joy in April of 2006. Baylee Joy, a red standard poodle, recently joined our family.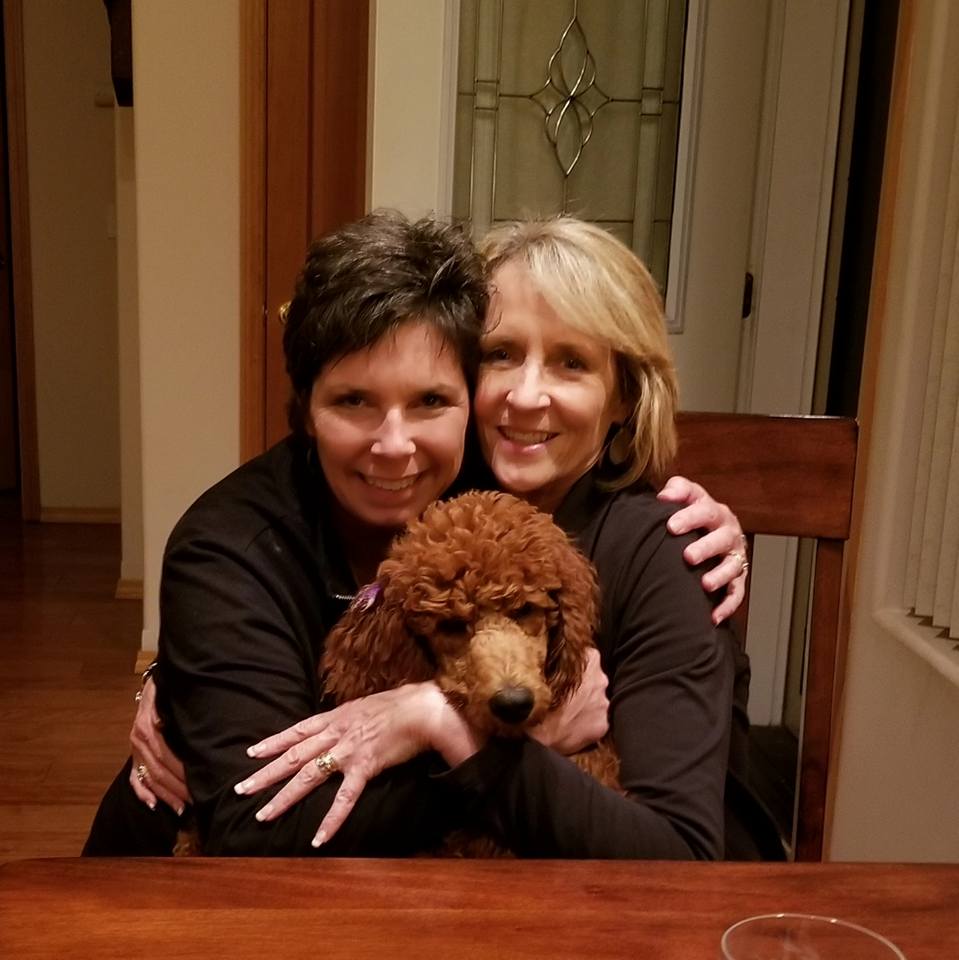 Hi there Dotti & Roby!
My name is Ryan Cirbo & I'm a big fan of the website. I'm a young advocate, as I was really involved with my PFLAG chapter back home in Indianapolis and used to run a blog for LGBTQ students back in high school to provide support in getting through some of the toughest times that LGBTQ individuals can endure.
Anyways, I was browsing over the site and was checking out the resources you all offer - I thought you had some excellent sites on there, but I thought it could help to include a couple additional LGBTQ mental health resources. So as a college student advocate and my experience with supporting our community, I thought I could lend a hand in enhancing the resources you have to offer! I thought I'd share these informative web resources that I think would be helpful additions to the page:
-LGBTQ Mental Health - A comprehensive guide by the National LGBT Health Education Center that includes research and statistics on the health disparities within our community. The guide reveals the inconsistencies LGBTQ folk experience in healthcare comparatively, and outlines steps for health centers and organizations to help fight the stigma while providing options and support for our community.
-LGBTQ Addiction Guide - A research-based awareness guide on a niche that is often overlooked - addiction in the LGBTQ community. Finding help with substance abuse is often more difficult for LGBTQ people, as many other obstacles are prevalent along with the fight with addiction - this in depth resource helps alleviate that stress by facilitating help in the form of useful information and support systems.
These are a couple resources that really touch on topics that we must shed more light on if we are going to end the stigma. I thought I would share these resources with you in hopes you can share them with more people than I can individually. When you get a chance to review the resources, I would love to hear your thoughts! Thank you so much and I look forward to hearing from you!!
My best,
~Ryan Cirbo
Ryan later contacted us to provide an additional great resource.  He said,

My best friend and roommate, Jaleesa Bustamante, just wrote this awesome piece for her real estate class. She's a fantastic writer and just tackled LGBTQ housing discrimination.

Here's the guide: LGBTQ Housing Discrimination by Jaleesa Bustamante - I thought it was a unique and well-written piece and thought you'd like to share it among your resources, especially since college students are constantly moving around and signing new leases - this is just some helpful info to have available. It covers our rights, steps to take, and even discusses homelessness in LGBTQ youth.
  ___________________________________________________________________________________________
https://www.therecoveryvillage.com/resources/lgbtq/ 
LGBTQ+ Drug and Alcohol Treatment Resources

---
The Equality Ride is a rich opportunity for young adults, ages 18-28, to take the helm in the journey for gay, lesbian bisexual and transgender equality. From beginning to end, the members of the Equality Ride will make this journey their own.

---
Our commitment to take our yearlong journey, Gay Into Straight America, had been brewing for a long time. It first began with our involvement with Soulforce. Thank you, Mel White and Gary Nixon, for your vision).

The purpose of Soulforce is freedom for lesbian, gay, bisexual, and transgender people from religious and political oppression through the practice of relentless nonviolent resistance.

---
One of only 16 movies out of 800 submitted selected as a documentary for screening at the 2007 Sundance Film Festival.

Recipient of the Katherine Bryan Edwards Award for Human Rights, presented each year "to a film that addresses a significant human rights issue by inspiring advocacy, increasing awareness and promoting equity and justice."  

---
Mary Lou and Bob Wallner (Evangelical Christians) lost their daughter, Anna, to suicide.  They introduced Dotti Berry & Robynne Sapp.  Read Dotti's & Roby's Story and find out the details. Mary Lou wrote a book, The Slow Miracle of Transformation. 

---
Diversity Rules Magazine
Jim Koury, Editor/Founder

Great guest column in Daily Star in New York for Coming Out Day, 2008. 

http://www.thedailystar.com/columns/local_story_285041525.html
 

---
God & Gays: Bridging the Gap
The Movie. The Conference. The Movement.


See the docomentary everyone is talking about. Producers Kim Clark & Luane Beck are making a difference!
 

---
 
---
Davina Kotulski, a pioneer in the Freedom to Marry movement, explains in no uncertain terms why continuing to prevent gay men and lesbians from marrying creates a second-class citizenry and is in direct violation of the Equal Protection Clause of the U.S. Constitution. Kotulski offers a clear, succinct argument that will open the eyes of even the staunchest foe of gay marriage.

---

 
Mission:  To secure the freedom and the right of same-sex couiples to enter a legally-recognized civil marriage having all the federal and state benefits and responsibilities which that entails. Check out what  Davina Kotulski, Ph.D., the Executive Director for Marriage Equality USA, and others are doing.

---
On Saturday, April 8th, 2006, Jennifer (writer, lesbian, and single soccer mom of four) embarked upon "A Walk for Togetherness" a 500 mile walk up the coast of California. Launched from San Diego and ending in San Francisco on Saturday, June 3rd.

All Americans, whether they realize it or not, have a lesbian, gay, bisexual, or transgender person in their families, workplace or circle of friends. As sons and daughters, sisters and brothers, mothers and fathers, many have suffered and too many families and communities have been torn apart.

I am walking for these eight weeks to highlight the fact that all of us are interconnected. Therefore, any discussions or debates that use the words "we" and "they" to polarize communities are erroneous and destructive.

What my walk boils down to is this: let's talk to one another about who we are and who makes up our families. We needn't fear what we'll find, because we will be the same people we were before, without the stress of hiding from one another. As more of us stop pretending that there is an "us"and a "them," it will become easier and easier to let go of assumptions and bigotry. Then, free of the shackles of shame and fear, we can work, play, and live in togetherness

.
---
MUSES LEGAL GUIDE TO LIVING TOGETHER  is an easy-to-use software that allows you to take the time and care necessary, in the privacy of your own home, to review the large assortment of over 150 agreements specifically created for partners before deciding which documents are most suitable for your unique circumstances.

Put in promotional Code 10000 when you purchase and Gay Into Straight America will benefit! 

 Deb Dillon, President

---
The Human Rights Campaign is an organization of people — a grassroots force of almost 600,000 individuals of every description, joined together in common purpose. Our strength is a direct reflection of the willingness of these Americans to become personally involved in the fight for gay, lesbian, bisexual and transgender equality.

---

 
Founded in 1973, the National Gay and Lesbian Task Force Foundation (the Task Force) was the first national lesbian, gay, bisexual and transgender (LGBT) civil rights and advocacy organization and remains the movement's leading voice for freedom, justice, and equality. We work to build the grassroots political strength of our community by training state and local activists and leaders and organizing broad-based campaigns to defeat anti-LGBT referenda and advance pro-LGBT legislation.

---
America is engaged in a crucial conversation, a conversation about basic values of love, commitment, fairness, and freedom. In every state, in many families, good people are thinking and talking about how excluding same-sex couples from marriage harms them, their kids, and our country.

How can you add your voice to this conversation? 

 

---
Marriage affects us all.  Marriage is about commitment, stability, fidelity and community.  These principles our society should value, not rally against.  

---
The Reading Grounds Book Store
When you visit Omaha, Nebraska, there's a welcoming destination enlightening the world one sip and one page at a time.  Imagine a place where you can go to relax, alone or with friends–a place that embraces diversity and stimulates independent thinking–a place where you can always find brewing attitudes!  Say hi and give a hug to our friends, owners Cindy Collins and Angie Keyes, while you are there!

---

 

 
Jim in Bold is a documentary about Jim Wheeler, a gay High School student in Lebanon, Pennsylvania, who committed suicide in 1997 because of constant harassment at school. Jimmy Wheeler had hopes and dreams. He was a gifted poet and painter who understood the power of words. He had a loving family who supported and cared for him. But for Jimmy Wheeler, growing up gay in rural Pennsylvania was too much to take. He was abused regularly at school. He was called awful names. In 1997, alone in a cold room, Jimmy Wheeler took his own life.
"Jim in Bold" was awarded "Best in Festival" at the 2003 Indianapolis LGBT film fest, and Best Documentary at the similar fests in 2003 at Long Island, Ft Worth and Tampa.

Jim Wheeler said … and if I believe in a Christian God, then I believe God said to me,  "It's better to be hated for who you are, than to be loved for who you are not."

We believe this quote is one of the most important that our GLBT community can embrace.  Also visit the website that Jim's family and friends have put together and maintained:  www.JimWheeler.org

---
Spiritual Guidance for anyone seeking a path to God.

---

 

 

Recent scientific research has demonstrated that biases thought to be absent or extinguished remain as "mental residue" in most of us.

---
goodsoil.org is a project of the
Lutheran Alliance for Full Participation.
The Alliance Partners are:


The Extraordinary Candidacy Project

Lutheran Lesbian and Gay Ministries

Lutherans Concerned/North America

Lutheran Network for InclusiveVision

Wingspan Ministry

Soulforce

---
www.StopTheHate.org takes you to Grassroots.org, which  is a 501c3 non-profit organization that serves other nonprofit organizations and information consumers worldwide.  Grassroots.org's work is benefiting hungry, oppressed, uneducated, and other ailing people more and more each day.
http://www.apa.org/pi/lgbc/publications/justthefacts.html
Just the Facts
A band of professional organizations, the Just the Facts Coalition, was formed in response to and in protest of a conference that was held in Columbus, Ohio, in 1998 to promote reparative therapy programs in public schools. The coalition began meeting to present a different and unified voice against reparative therapy, and in 1999 created "Just the Facts About Sexual Orientation & Youth: A Primer for Principals, Educators, and School Personnel."

The coalition is comprised of the American Academy of Pediatrics, the American Counseling Association, the American Association of School Administrators, the American Federation of Teachers, the American Psychological Association, the American School Health Association, the Interfaith Alliance Foundation, the National Association of School Psychologists, the National Association of Social Workers, and the National Education Association. The work provides a thorough history and assessment of the reparative therapy movement and resources for therapists and educators.
Click above link.  These are free resources to the unmarried community. This provides a comprehensive collection of contacts with legal information, government agencies, non-profit organizations and helpful business resources.
Emergency Numbers
Here's a list of nationwide emergency and crisis numbers. If you are in crisis, first call 911 while you're looking in the front of your local yellow pages. That's where you'll usually find the local suicide prevention hotline or crisis center. You can also try your local Gay Lesbian Center, which usually offers referrals for counseling, domestic violence and suicide prevention. If you can't get through to any of those, try one of the crisis lines below.
The Trevor Project - 866-4-U-TREVOR (866-488-7386)
The Trevor Helpline is the only national 24-hour, toll-free suicide prevention hot line aimed at gay and questioning youth. The Trevor Helpline is geared toward helping those in crisis, or those wanting information on how to help someone in crisis. Managed by their partners at San Francisco Suicide Prevention, the Trevor Helpline calls are handled by highly trained counselors and are free and confidential.

Girls and Boys Town Crisis Line
24 hours a day, every day
800.448.3000*, or for TDD 800.448.1833*

Alcohol a Drug Abuse Hotline - 800-ALCOHOL* - 800.454.8966*

Childhelp USA's National Child Abuse Hotline - 800.422.4453*

Children of the Night - 800.551.1300* Short term crisis

National Hopeline Network Crisis Hotline - 800.SUICIDE* 784-2433
24/7 Website (administration 1 800 442 4673)

National Alcohol a Drug Abuse Hotline - 800.252.6465

National Network of Runaway Youth Services - 202.783.7949
Networks with youth shelters and other community based groups. 1319 F St NW #401, Washington, DC 20004

Suicide Prevention Crisis Lines - Call 911

WEBSITE & EMAIL ADDRESSES: 

Metanoia - Contains conversations and writings for suicidal persons to read. If you're feeling at all suicidal, be sure to read this page before you take any action. It might just save your life. www.metanoia.org/suicide

Kidshelp: kidshelp.sympatico.ca - a service for young people which also addresses issues in addition to suicide. move down to email/website addresses.  The # listed on their website is not reachable from calif it appears.  
 
Samaritans www.befrienders.org/email.html (A 24-Hour confidential e-mail service) and kidshelp.sympatico.ca - a service for young people which also addresses issues in addition to suicide. Talk to a therapist online - this is a list of over 200 psychotherapists and other professionally trained counselors who will interact with you via the Internet. Some can respond within 24-36 hours. Most charge a small fee but can be worth it. Be sure to read the background information.