About Us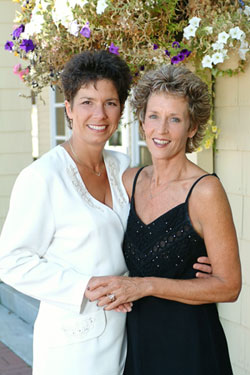 Below, you can discover a little about our career life journey through our bios:
Dotti Berry

Personal Mission Statement

To live authentic with an open heart, unattached to a specific outcome.


Since the journey ended, Dotti & Roby have become real estate investors.  Visit their website for their new venture, Harbinger Enterprises.
For many years, Dotti has had two loves in business … facilitating/coaching and marketing/promotions; therefore, her dual career path has had a parallel existence. 
Facilitating/coaching

Dotti was, as she says, "born to coach," beginning as a teen-ager coaching 10 & under girls basketball.  She then received a BS.Ed from Georgia Southern College in 1974 and a M.Ed. from Georgia State University in 1975. She taught and coached women's basketball at the high school level in Georgia before coaching at the University of Kentucky from 1980-1983.  Although now out of the field of women's basketball, Dotti has continued to coach, utilizing different vehicles.
Through her company, IMPACT Communications, Dotti Berry has served since 1985 as a trainer/facilitator/coach, offering seminars and workshops.  Working with a variety of clients in organizations, universities, corporations, religious institutions and Leadership classes for both youth and adults, Dotti has worked with Sodexho, the University of Kentucky, The Girl Scouts, NCCJ  (National Conference of Community and Justice) and Soulforce in the area of transformation, GLBT issues, diversity, teambuilding, and non-violent process.
As a Life & Relationship coach, Dotti has had many unique experiences and opportunities, as she has moved from coaching in one arena to coaching in others. Dotti is working on her doctorate in Human Sexuality at Widener University and has attended the Thornfield Annual Conference on Sexuality, studying with Brian McNaught, called the "Godfather of Gay Sensitivity Training" by the The New York Times. During the conference, Dotti completed a special track on corporate diversity and gay issues in the workplace.  Dotti has also presents workshops as well as groups for SO's (significant others) and transgender couples at several transgender conferences, such as Esprit, Fantasia Fair, Southern Comfort, and IFGE (International Foundation for Gender Education),  Additionally, Dotti is a certified Self-Talk™ Trainer and has been a member of Toastmasters.   She serves as part of the extended national leadership team for Soulforce (www.soulforce.org), The purpose of Soulforce is freedom for lesbian, gay, bisexual, and transgender people from religious and political oppression through the practice of relentless nonviolent resistance. . Dotti has also studied Touch Drawing™ with Deborah Koff-Chapin (www.TouchDrawing.com) and teaches and utilizes Touch Drawing in various workshops, as well as in one-on-one coaching, transgender transitioning, and creative writing and journaling on "transition to transformation."   Most recently Dotti been training with Energy Mirrors, and EFT (Emotional Freedom Technique) and is integrating those new tools into her coaching.
Marketing/Promotions/Media
Dotti hosted the Terry Hall Show in 1984-1986, as well as hosting "Back to the Final Four" for women's basketball in 1986. 
Dotti has been in marketing and promotions since 1988. From 1988-1995, she owned BSA Enterprises, a company consisting of two divisions: Fifth Avenue Resort Wear, a line of retail stores throughout the southeastern United States and BSA Promotions, which produced custom corporate logo items. During that time, her business was named the 1991 Lexington, Kentucky Chamber of Commerce Small Business of the Year, 1994 Impressions Magazine "Top50" in Promotional Apparel, 1995 ASI Small Business Distributor of the Year in the United States, 1995 PPAI Golden Pyramid Award Winner, and 1995 Promo Magazine Top 100 Promotional Companies. Additionally, Dotti was a two time Lane Report "Top Women in Business" recipient in Lexington, Kentucky. Dotti has also authored many articles for magazines such as Counselor Magazine and Promo Magazine. 
In 1995, Dotti developed a group of companies, which she sold in 1998. Those companies were Creative Promotions, Inc., a strategic partner for innovative promotional campaigns, marketing and event planning; Web Creations, a website and internet marketing company; Vision Management Group, an agent for professional athletes and entertainers; Stitch by Design, an embroidery facility; and Five Star Distributors, a fulfillment and distribution center. 
When Dotti sold the previous companies, she started Phoenix Communications, which specializes in corporate apparel, promotions, internet/website development and hosting, graphics and printed products, event product development, and corporate logo identification programs.
IMPACT Communications/Phoenix Communications
4402 Carstan Loop
Blaine, WA  98230
360-305-0909
Robynne Sapp
EDUCATION
1989                     Certificate in Biblical Studies
                                    Torchbearer Bible School, Holsbybrunn, Sweden; Carforth, Lancashire, England
1986                           Associate in Sciences Degree, Medical Assisting
Certified Medical Assistant
Whatcom Community College, Bellingham, WA
PROFESSIONAL EXPERIENCE
1993-2005                Certified Medical Assistant
                                    Certified Clinical Research Coordinator
                                    Dept. Manager

                                    Bellingham Asthma, Allergy & Immunology Clinic
Bellingham, WA
Responsible for the management of all aspects of the Clinical Research Center, including:   Overseeing 68 clinical research studies and coordinating clinical activities to ensure compliance with specific protocols and standard operating procedures, according to FDA and ICH regulations for Good Clinical Practices; Coordinating study management activities, including regulatory document submission, study start-up activities, marketing and advertising, budget and contract negotiation and submission, study information tracking and site management.  Responsibilities also included recruiting, screening, and enrolling study subjects, conducting subject study visits, completing and maintaining medical records, source documents and case report forms; Assisting with the training of new clinical research coordinators; Assisting Clinical Research Associates (monitors) in ensuring the accuracy, integrity and completeness of all data;  Maintaining a high level of professional expertise through familiarity with clinical literature and continuing education courses.
1989-1991                 Medical Assistant
                                    Bellingham Asthma, Allergy & Immunology Clinic
Bellingham, WA
Responsible for clinical Medical Assisting in a multi-provider asthma & allergy clinic.  Duties included:  Vital signs, electrocardiograms, pulmonary function testing, Methacholine bronchial inhalation testing, exercise stress testing, involvement in treatment of acute asthma and COPD exacerbations and allergic reactions/anaphylaxis, prick and intradermal allergy skin testing, administration of immunotherapy injections, and other therapeutic subcutaneous & intramuscular injections/vaccinations, venipuncture, serum cortisol testing, pharmacokinetic sampling, tympanograms and patient education.  Administrative duties included:  telephone communications, medical transcription, scheduling, data entry, development of patient education materials, and medication keyboard macros for use in creating patient take-home medication plans and instructions.
1991-1993                     Medical Assistant (Ophthalmology)
                                       Robert Alan, M.D.
Bellingham, WA
Duties included: Telephone communications, data entry, filing, and computerized visual field analysis.
1986-1988                     Medical Assistant - (Otolaryngology)
1991-1993                     Roger Barnhart, M.D., Robert Newell, M.D.
Bellingham, WA
Duties included: Telephone communications, appointment & surgery scheduling, filing, data entry, medical transcription, patient examination preparation, minor surgery and procedure assisting, audiograms, tympanograms, ear irrigations and vital signs.
1991-1992                     Administrative Assistant/House Mother
                                    Torchbearer Bible School
                                    Holsbybrunn, Sweden
Duties included:  General office duties, telephone communications, data entry, scheduling volunteers & guests, scheduling, organizing and overseeing student duties.     
                                
1991                           Medical Transcriptionist
                                    North Sound Family Medicine - Bellingham, WA
Duties included: Transcription of chart progress notes, medication refill notations, telephone consult notes, radiology reports, and consultation letters.
PROFESSIONAL CERTIFICATIONS & LICENSURE
2005     Certified Clinical Research Coordinator – Association of Clinical   Research Professionals

1997     Certified Medical Assistant - American Association of Medical Assistants

1993     Washington State Health Care Assistant License # 025215 HC00006680 / Category ACE
PROFESSIONAL MEMBERSHIPS
Member of the Association of Clinical Research Professionals
Member (2005 President) of the Whatcom County Chapter of Medical Assistants
Member of the American Association of Medical Assistants
 PRESENTATIONS & LECTURES
Medical
Environmental Controls

– Whatcom County Asthma Support Group – October 1998

Asthma Management

(Medication overview, MDI technique, and peak flow monitoring) A Schering Plough sponsored event for local physicians, physician's assistants, nurse practitioners, medical assistants and nurses – June 1999

Effective Patient Relations

– Bellingham Asthma & Allergy Nurse Meeting, Nov. 1999
Food Allergies in School Children:

 

Advice for teachers and Caregivers

- June 2000

Clinical Research and Drug Development

– Whatcom County Chapter of the American Association of Medical Assistants - September 2002

Clinical Trials and the Drug Development Process

– Washington State Society of Medical Assistants, State Convention – May 2003

Devices Used in the Diagnosis and Treatment of Asthma

– Whatcom Community College - March 11, 2004
Churches, Corporations, Colleges and Other
Stories From The Road, Living Authentic & Celebrating The Gift That You Are – Gay Into Straight America Journey – spoke to over 100 various organizations during our year long journey throughout America
Diversity Training in Corporate America
Keynoted or gave closing remarks for groups such as "Safe Spaces" Conference on Anti-Bullying for Whatcom County Schools and PFLAG (Parents & Friends of Lesbians & Gays) Northwest Conference.