Stand UP Speak OUT Declaration
YES!  Please add me to your list of names of people who are committing to becoming Stand UP Speak OUT Wind Changers.  I am committing to doing Whatever It Takes to engage hearts and minds, create authentic connections, and dissolve differences that separate us. I am committed to living an authentic life, so that I might walk in freedom and also inspire others.

Roby got a tatoo to express her commitment!  Include your address below and we will send you a complimentary temporary tatoo just like Roby's!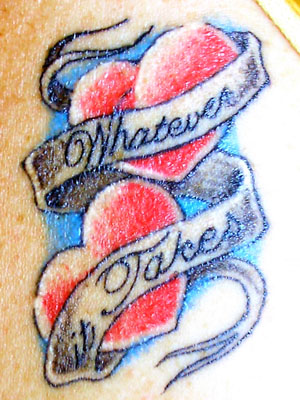 As Helen Keller encouraged us, "Do not refuse to do the 'something' you can do!" Print out this picture and these words and carry them with you as a reminder.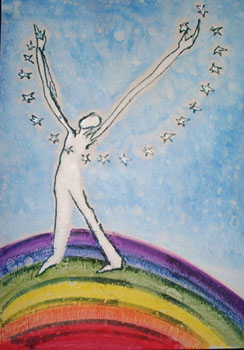 Our rainbow wristbands are for a cause.  And it's bigger than any of us.  It's about building bridges and creating authentic connections through these colors of awareness. 
We hope our rainbow wristbands, a never ending circle of colors, help lead to engaging others in more meaningful conversations, creating a tipping point for awareness about the value of diversity of people in our world, and how we are all interconnected. Isn't it time?
These silicon rainbow wrist bands are molded with GayIntoStraightAmerica.com, as well as StandUPSpeakOUT.com.